50 Reasons to Love the Library
by Lorrie Bodger
I'm a writer. I need quiet. But in 2011, the lady in the apartment above mine began to practice scales on her grand piano at full volume every day precisely during my writing hours. After two weeks of torture I joined the Library: the Hornblower Room—better known to writers as the "fifth-floor writers' room"—saved my sanity. New members often join the Library with specific purposes in mind: writers need a place to work; families use the Children's Library; scholars require the Library's research resources; readers want access to the latest bestsellers. Yet even long-standing members aren't always aware of the dozens and dozens of other delights of the Library.
1. Open Stacks
The NYSL houses most of its impressive collection of books in open stacks that you may browse to your heart's content. Discover every book your favorite author has written, explore a topic that fascinates you, stumble upon a shelf of just about anything. The open stacks are full of surprises.
2. The Members' Room
Consider this your own private club, complete with couches and armchairs, small desks and lamps, huge windows, and a handsome fireplace. Silent reading and study prevail (no laptops allowed here), and you can catch up on current newspapers, magazines, and literary journals as well.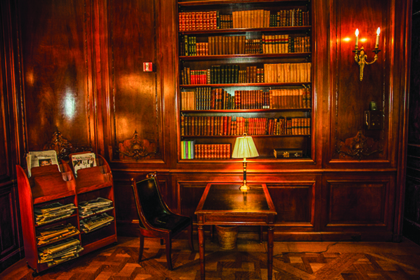 3. Parties!
There's an annual June party for new members—and now the NYSL hosts a December party for new members who joined after June and missed that party. (And the December guests will be invited to the next June party too.)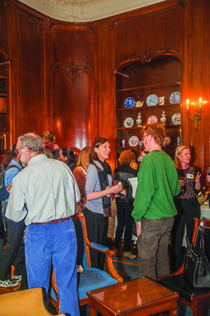 4. NYSOCLIB.ORG
The website is your gateway to taking full advantage of all the Library has to offer. For example: Go to the Home page, click on the Marginalia tab—and bingo! Book recommendations, upcoming events, and the always-interesting blog.
5. Long Hours
In January 2015 the Library hours were extended significantly: Monday and Friday from 9:00 AM to 5:00 PM; Tuesday, Wednesday, and Thursday, 9:00 AM to 8:00 PM; weekends from 11:00 AM to 5:00 PM. And that includes the entire summer.
6. The Whitridge Room
A singular room, in the best sort of way. When it's not in use for events or meetings, you can read comfortably on the couch or armchairs or work on your computer at the big table. If the Members' Room is a large living room, the Whitridge Room is a small parlor.
7. Online Catalog
Once you try it, you'll wonder how you lived without it. The amazing OC will lead you to whatever books you need or want—search by title, author, subject, or even keyword.
8. Readers' Advisory
Mia D'Avanza, Head of Circulation, says, "We have a uniquely engaged Library staff. We get to know the tastes of our members and we learn what they like to read." Need a book recommendation? Ask a staffer.
9. Internet Access
Bring your computer and get online throughout the Library. There are only two exceptions: the Reference Room on the first floor and the Members' Room on the second floor.
10. Audiobooks
The NYSL has lots of them. The newest acquisitions are near the Circulation Desk; the older ones are in Stack 9.
11. E-Books
The NYSL offers abundant e-books for free downloading through the 3M Cloud Library. Classics, best-sellers, fiction, nonfiction—get the app and get portable. There's an instruction sheet at the Circ Desk and a pdf guide online. (Having trouble installing the app? Ask for help at the Circ Desk.)
12. The Hornblower Room
This hushed fifth-floor oasis is a haven for anyone who wants to concentrate on writing, research, or even homework—in the company of (unintrusive) others. The room was completely refurbished in 2010 with Aeron chairs, handsome tables, good lighting, and plenty of outlets for computers.
13. Databases and Other Electronic Resources
On the website's Home page, right below the Search function, you'll see a small line of type: 3M E-books | JSTOR | Project MUSE | OED | All Electronic Resources. Clicking on any of these headings (especially the last one) takes you to complete information about the many databases and other electronic resources available to all members. Art, biographies, book reviews, newspapers, scholarly journals—a world of reference at your fingertips.
14. Comfort Stations
The restrooms in the Library are very, very nice: super-clean, bright, well-supplied, and private. If you're spending any time at all in the Library, you'll appreciate them in a big way.
15. Nooks and Crannies
Tucked away among the open stacks are small desks, with lamps, where you can hide out if you don't feel like using one of the more conventional rooms.
16. Online and Telephone Renewals
Not quite finished reading that 853-page historical novel? You can renew a book at the Circulation Desk or by phone, but you can also renew on the website: Log in, go to My Tab, and open Current Checkouts. See that Renew heading on the left? Check the box beside your book and, if no one else is waiting for it, you'll be able to renew it right there.
17. The Four Thousand
Steve McGuirl, Head of Acquisitions, says, "The Library is not a museum—it's a growing collection." He should know: he oversees the addition of 4,000 books (or titles, in library-speak) to the NYSL every year.
18. Books by Mail
If you can't get to the Library, the NYSL has a mail service for you. Open a postage account and the Library will send you the books you want. For details, ask at the Circ Desk about the Books by Mail Policy or read about it online.
19. The Front Doors
They're automatic. Give them a little push (or pull) and they glide open with no help from you. Very useful when your arms are full of books. And the short flight of stairs between the street-level doors and the Library proper is equipped with a Handi-Lift, making the NYSL fully accessible to all.
20. Book Funds
Since 2008, generous members have established fourteen new book funds—so the NYSL has been able to expand its collections in many areas: performing arts, contemporary fiction, fine arts, ancient culture, mysteries, poetry, and more.
21. What's New?
Want to know what new books have been acquired? Pick up a New Books leaflet from the display at the Circ Desk, or view the list on the website.
22. Raising Readers
The Children's Library is so varied (9,500 titles!) and has so many events, activities, and services for kids and families that it's in a category all its own. Coming soon: 50 Reasons to Love the Children's Library. Look for it in a future edition of Books & People.
23. The Little Table in the Lobby
It's over by the reference desk, at the foot of the stairs: a sort of mini-exhibit of books relevant to something newsworthy, seasonal, or quirky, chosen by staff. That little table is one of my favorite Library perks. It represents what I love most about the NYSL: resources, discovery, sharing, and welcome.
24. Your Private Reading History
Can't remember the name of that terrific mystery you read two years ago? Go to the Home page, log in, click My Tab, and look for My Reading History. Every book you've ever taken out of the Library is listed there, and no one sees that list but you—it's private.
25. Reserving a Book via the Website
Easy: Log in and go to My Tab. Under Patron Record, hit Search Catalog. Look up the book you want. If it's already out on loan, hit Request, add date parameters if you like, hit Submit, and that's that. You'll be notified by e-mail when the book is waiting for you.
26. Reserving a Book at the Circ Desk
Also easy: If the book you want is out on loan, ask the Circ Desk assistant to put your name on the waiting list. Same deal: When it's your turn you'll get an e-mail notice—and a week to pick it up.
27. The Writing Life
From Washington (Irving) to Willa (Cather) to Wendy (Wasserstein), the Library has been a good friend to writers. Writing Life Daytime Talks focus on topics of special interest to writers; writing workshops are for writers who want to improve their skills; once-a-month writing groups are for experienced writers; evening readings give writers an audience for their work. Check the website for more information and for the calendar of writing-related events and programs.
28. Individual Study Rooms
If you want to be on the fifth floor with other writers and researchers but you prefer to work in seclusion, reserve one of the six study rooms (easy to do by phone or at the Circ Desk). Same great chairs, tables, lighting, and outlets, but complete privacy—including locks on the doors.
29. Evening Events
These amazing book-related lectures and panels are for members—and friends. They're held in the Members' Room and they're open to the public, so bring your nonmember friends or let them know about events they'd enjoy even if you can't get to them yourself. Read about upcoming events in the newsletter or the online calendar.
30. Autographs
At each book-related evening event the NYSL sets up a book table just outside the Members' Room. Buy the book-of-the-evening and take it right up to the author for signing.
31. Rare Treasures
Laura O'Keefe, Head of Cataloguing and Special Collections says, "There's more to us than just the latest novels." The Library is proud to own an astonishing array of rare books that are carefully conserved and protected—and available for research.
32. The Peluso Family Exhibition Gallery
Harriet Shapiro, Head of Exhibitions, creates stunning themed shows of books drawn from the Library's rich collections; the gallery is open to the public. 33. Attention to the Future The Library has been around since 1754 and intends to be around for a lot longer. The Goodhue Society welcomes members who have included the NYSL in their estate plans, and the Library honors them with an annual thank-you party.
34. The Skylight
Joan Zimmett, Director of Development, loves the beautiful leaded skylight above the graceful main staircase. The skylight was revealed and restored in 2010 thanks to the generous support of Ada and Romano Peluso.
35. Climate Control
Warm in winter, cool in summer; umbrella rack for rainy days; coat closet for your outerwear.
36. Terminals and Loaners
There are computer terminals scattered throughout the Library, for your convenience when you need to do a bit of quick reference. And the Library has netbook laptops that you may check out for the day and use on-site; ask about them at the Circ Desk.
37. Lock It Up
On the fifth floor there are first-come, first-served lockers for members to use. If you need to stash your stuff during a day, ask for a key at the Circ Desk. If you need a locker for up to six months, fill out an application at the Circ Desk; your name will go onto the waiting list.
38. Water, Water
Thirsty? There's a water cooler—with paper cups—on the main floor. Or bring your own water (water only) and sip as you work or read anywhere in the Library.
39. No Cell Phones
I know, I know, it takes a little getting used to, but you'll learn to love it. No ringing = no interruptions. No ringing = no distractions from the Joy of Library.
40. Riches
Mia D'Avanza, Head of Circulation, loves the fiction stacks: "They're so tall that they give you a feeling of being immersed in a wealth of books." There are rolling safety steps to help you reach the highest shelves.
41. The Pleasure of His Company
Sara Holliday, Events Coordinator, loves the Green Alcove at the far end of Stack 12. It's a snug, sheltered workspace, and when you're sitting at the desk Mr. John Cleve Green (1800-1875) will be looking over your shoulder. In portrait.
42. Tech Workshops
Though it values the past, the Library does not live in the past. Technology workshops are offered regularly. In the spring of 2015 there was, for instance, a workshop on podcasts. Past workshop topics: iPhone, Facebook, Twitter, Pinterest, Gmail, buying a new computer, keeping your PC free of viruses.
43. Interlibrary Loans
The NYSL participates in a cooperative interlibrary loan system that gives members access to books, articles, and even microfilm from other US libraries. More info on the website.
44. Tracking Your Checked-Out Books
Good job, you've stacked up the four books that have to go back to the Library and you've put them by the door. But wait—did you have four books out or five? Log in at the NYSL website, go to Home page> My Tab> Current Checkouts to find the answer.
45. Members' Suggestion Box
You see a glowing review of a new book that you'd love to read. You look it up in the NYSL's online catalog—but it's not there. Log in, go to For Members, click on Suggest a Purchase, and fill out the form. Acquisitions will consider your request and, if it looks like a book the Library should have, they'll order it and you'll be first on the list to read it.
46. Reading Groups
There's a Trollope group, a Fitzgerald group, and a slew of others—some long-running, some short-term. Check the website or the newsletter to find (your) like-minded readers.
47. City Readers
That's the name of the Library's new digital reference work, in which you can "Explore more than 100,000 records of books, readers, and borrowing history from the New York Society Library's Special Collections." Fact: In November and December of 1789, Anthony L. Bleecker (namesake of the street I lived on for thirty years) was reading A Voyage Towards the South Pole, and Round the World by Captain James Cook.
48. Periodicals
The Library subscribes to more than 100 newspapers, popular and specialized magazines, and literary journals. In the Members' Room you can read the latest issues; Stack 11 is the home of most back issues and all sorts of old, unusual, or scholarly magazines. (Stack 11 even has a microfilm reader.)
49. Card Catalog
Carolyn Waters, Head Librarian, uses the online catalog for speed and efficiency, but she loves the old card catalog that lives in the Reference Room on the main floor—because it reminds her of childhood libraries.
50. Rare Librarians
You may have grown up thinking of librarians as Stern Guardians of the Books, but our librarians are nothing like that. Our librarians definitely want to help you have a great experience with every aspect of the NYSL.
---
Lorrie Bodger, author of more than thirty nonfiction books, also edits, teaches, and writes fiction.