Ethelyn Chase and Poetry at the New York Society Library
Monday, April 1, 2019
April is National Poetry Month, and there's no better time to celebrate the contributions made by Trustee Emerita Ethelyn Chase to the Library. Two major donations from Mrs. Chase in the recent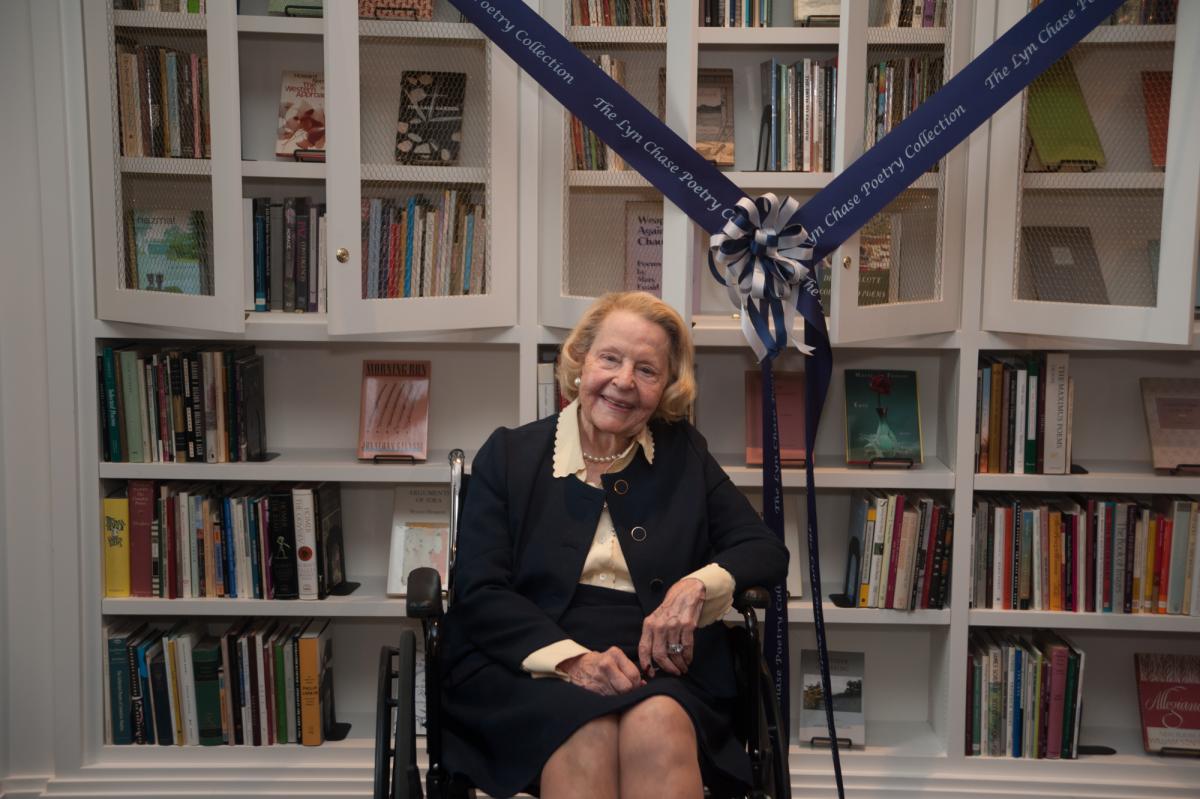 past have enriched our poetry collections: A book fund, The Ethelyn Chase Fund for Poetry, and a large donation of books shelved in the Whitridge Room, the Lyn Chase Poetry Collection. Thanks to her exceptional generosity, the Library's collection of poetry is thriving and growing.
Mrs. Chase has devoted much of her life to poetry and literature, including a term as President of the Academy of American Poets and as a trustee of this library since 1996. In 2011, she established the Ethelyn Chase Fund for Poetry, and so far, the fund has purchased over 620 books for our collection. A majority of the books are collections of poetry, but numerous critical studies and biographies of poets have been added, as well. The depth and breadth of our poetry collection has increased significantly with the addition of poetry from around the world in translation, and the works of poets both canonical and lesser-known from antiquity through 2019. A selection of the newest poetry collections can be found in the lobby; the rest of our poetry holdings (and critical works) are on stack 9, while biographies of poets are on stack 7. If you need help navigating the Dewey Decimal classification of poetry—occasionally challenging even for seasoned librarians—ask for help at the Reference Desk.
The Chase Fund has also underwritten numerous poetry-related readings and lectures though the years, and on April 8th we present a special event: poets Gregory Pardlo (2015 Pulitzer Prize for
Poetry) and Jenny Xie (winner of the Walt Whitman Award and National Book Award finalist) in the Members' Room. More information is available here. Don't miss it.
The Society Library is also very proud to have been the grateful recipient of poetry books from Mrs. Chase's outstanding personal library. Cataloging of this collection is currently in-process, but many books are to be found on shelves on the west wall of the Whitridge Room on the third floor, with more arriving weekly. The collection reflects Mrs. Chase's meaningful connection with post-war American poetry, but also includes a variety of work representing numerous eras and languages-in-translation. The inclusion of biographies, critical studies, and interviews, all attest to her broad interest in poetry. We are also thrilled that within the Lyn Chase Poetry Collection are many books signed by authors, often inscribed to Mrs. Chase with kind and affectionate words for her contributions as an advocate for poets. Through the years that she created this collection, she maintained related correspondence, notes, and clippings that are still held in some volumes. The materials reflect her professional involvement, her personal taste, and the relationships and connections she established through her love of poetry.
One can quickly find these books in our online catalog by doing an author search for "Lyn Chase Poetry Collection." But Mrs. Chase envisioned her donation as a browsing and reading collection housed in a quiet, welcoming place for Library members—I can recall her doing an enthusiastic, impromptu sketch of the space she imagined on a scrap of paper several years ago—and the Whitridge Room is a lovely space to read an old favorite or to make a new discovery. Be sure to stop by and have a look, settle in a chair by the window, and take time out to read poetry from her collection. (If you visit on April 18th, do not miss Poem in Your Pocket Day in the Children's Library.)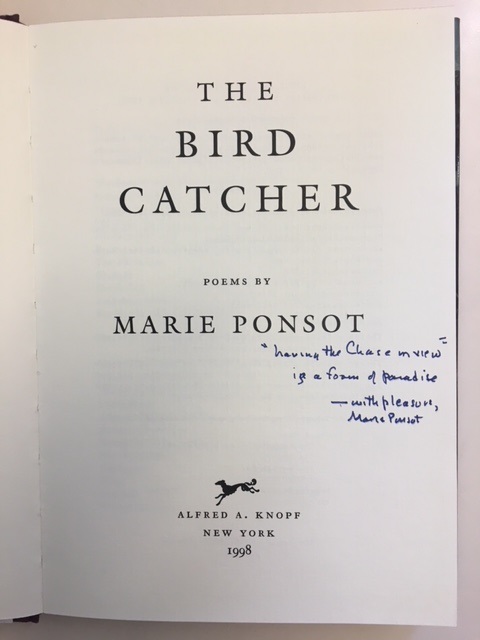 W.S Merwin inscribed a 1993 publication of his Travels to Lyn Chase, "who has devoted herself unselfishly to befriending the arts she loves and those who continue them," while Anthony Hecht dedicated the Academy of American Poets' 60th Anniversary celebration booklet to Mrs. Chase with these words:
"It is only the beginning of justice to claim that she has labored with unflagging energy, cheerfulness, and dazzling success to advance the cause of our nation's poetry, as well as the poetry of other nations, in ways for which all poets, as well as all readers of poetry, cannot fail to be grateful."
The New York Society Library thanks Mrs. Chase for her devotion to poetry and her generosity. Present and future readers of poetry among our membership "cannot fail to be grateful." —Peri Pignetti, Head of Cataloging & Steven McGuirl, Head of Acquisitions.