Frauds in the Stacks
Thursday, March 31, 2022
Publishing history is littered with hoaxes, clever and crude. Frustrated or desperate authors—whether inspired by the lure of a quick buck, the promise of fame, the sweetness of revenge, or just the thrill of getting away with it—have assumed identities, faked memoirs, manufactured "ancient" epic poetry and folktales, and passed off wholly fictitious stories as fact-based journalism in newspapers and magazines.
The Library's collection contains many well-known books that originated as hoaxes, from the 18th-century through the late 20th-: James Macpherson's "Ossian" epics, Thomas Chatterton's pseudo-Medieval "Rowley" poems, James Frey's A Million Little Pieces, Beatrice Sparks' Go Ask Alice, William Boyd's Nat Tate: an American Artist, 1928-1960, Romain Gary's Emile Ajar novels, and more. Once the jig is up, hoaxes are usually recataloged and relocated, their real authors identified, and subject headings like Literary forgeries and mystifications or Imaginary Biography added to bibliographic records to hopefully alert unsuspecting readers.
The Library offers some fine books in the collection for those who wish to read more about literary hoaxes (further reading suggestions are below). In honor of April Fool's Day, we present (with digressions) three lively swindles.
---
Washington Irving: The Perfect Hoax?
On October 26, 1809, an eye-catching announcement appeared in the New York Evening Post and ran in several city newspapers over the next few days:
DISTRESSING

Left his lodgings some time since, and has not since been heard of, a small elderly gentleman, dressed in an old black coat and cocked hat, by the name of KNICKERBOCKER. As there are some reasons for believing he is not entirely in his right mind, and as great anxiety is entertained about him, any information concerning him left either at the Columbian Hotel, Mulberry street, or at the office of this paper will be thankfully received.
Two weeks later, a letter to the editor appeared in the Evening Post saying that a man fitting Knickerbocker's description was seen, fatigued and exhausted, on a road near
Albany. On November 16, yet another notice appeared in the morning paper, this one from Knickerbocker's landlord at the Independent Columbian Hotel on Mulberry Street. The landlord announced that if Knickerbocker's back rent were not paid immediately, he would sell a "curious manuscript" found in his rooms.
This missing man, Knickerbocker, was entirely a fabrication of a 26-year-old aspiring writer from New York City named Washington Irving. Exploiting the fine line between crude hoax and ingenious guerilla marketing, Irving concocted the scheme to build anticipation for his first book, a satirical masterpiece called A History of New York From the Beginning of the World to the End of the Dutch Dynasty by Diedrrich Knickerbocker. The swindle worked splendidly. New Yorkers—even those who suspected they were being hoodwinked—were buzzing with speculation about the missing man. On November 29th, Irving's publisher took out an ad announcing that the book "found in the chamber of Mr. Diedrich Knickerbocker" would be published shortly to "discharge debts he has left behind." The two-volume book, the "curious manuscript," was published on December 6th, selling for $3.
The History was an immediate and major success, praised by the press and other authors. It also earned Washington Irving a lot of money. According to John Winterich's introduction to the 1940 Heritage Press edition, the earnings were "an amount which one may safely conjecture to have been the largest literary reward earned by an American author up to that day." The book marked the beginning of a long, successful career, including several books that have earned the distinction of "American classic."
Irving's name is frequently followed by the term "first American man of letters." It seems significant—if not entirely, appropriately American—that this origin story of our nation's literature has at its center a silly but ingenious swindle, an author reinventing himself, and a book that parodies and punctures windy "high-falutin'" prose. The History has had a long, influential life, and the character of Knickerbocker has grown into a mass cultural hallucination used and reconfigured over the years by marketing execs selling all manner of products, by paranoid nativists seeking to identify "authentic" New Yorkers, and by moneyed New Yorkers desperate to place themselves among the esteemed pantheon of "old" New York. The History of New York has been described as everything from an experimental novel, to brilliant satire, to foundational American mythology, to legitimate history (albeit with some reservations). In his introduction to the 1964 New College and University Press edition, Edwin T. Bowden notes that "readers should be pleased to discover that they are not only being amused; they are indeed being instructed." Interestingly, most libraries catalog the book as New York City history, and it generally sits on the shelf alongside "legitimate" scholarly and popular histories. No added subject headings hint at the book's origins or Irving's intentions.
Irving & The Society Library
In 1835, Washington Irving became a member of the New York Society Library's board of trustees. His appointment the culmination of a long association with the Library.
Unfortunately, our borrowing ledgers for the years that Irving was working on the 1809 and 1812 editions of The History of New York are missing from our archives. Thus, we
will never know for sure if Washington used the Society Library collection for research on his debut—but it seems quite likely that he did. Irving was probably introduced to the NYSL at a very young age. His childhood home on William Street was a four-minute walk from the Library on Nassau Street, and, according to City Readers, the Library's database of borrowing records, his older brothers William and Peter were frequent users of the Society Library collection from 1789 to1804. In the History of the New York Society Library, Austin Keep calls Washington Irving a "life-long member of the Library." Irving scholar Edwin T. Bowden lists five sources used by Irving for The History of New York, and all five are available in our rare book collection in the same editions listed by Bowden. In his Life of Washington Irving (1935), Stanley T. Williams calls NYSL a "source for [Washington's] first remarkable book." He goes on to note that young Washington's "beaten route was between the Society Library and the Historical Society" and mentions his "frequent" use of the collection throughout his life.
In Books and People, Marion King notes that over several years Irving checked out various histories of New York but she does not specify the exact dates of circulation: William Dunlap's History of the New Netherlands (published 1839); John Fanning Watson's Historic Tales of Olden Time: Concerning the Early Settlement and Advancement of New York City and State (published 1832) and Annals and Occurrences of New York City and State, in the Olden Time (1846); and History of the State of New-York by John Yates and Joseph Moulton (1824-1826). According to Edwin T. Bowden, Irving "continually revised and reworked [The History] for the rest of his life," and The History was published in several significantly revised editions. Perhaps these borrowings from the NYSL collection were consulted for his revisions.
In the "About the Author" section of the History, Irving writes that at the end of his life Diedrich Knickerbocker "disposed of his worldly affairs, leaving the bulk of his fortune to the New-York Historical Society; [and] his "Heidelburgh Catechism" and Van der Donck's work to the city library..." (The NYSL was popularly referred to as the "City Library" before the establishment of the New York Public Library.) Indeed, the Society Library owns a copy of van der Donck's Beschryvinge van Nieuvv-Nederlant (A Description of New Netherland) in the 1656 edition. Its provenance, sadly, is not noted in our records. Nonetheless, a belated thank you for the generous donation is hereby offered to Mr. Knickerbocker, and we will forgive him for giving the Historical Society the big money.
Edgar Allan Poe: The Balloon Hoax
ASTOUNDING NEWS! BY EXPRESS VIA NORFOLK! THE ATLANTIC CROSSED IN THREE DAYS! SIGNAL TRIUMPH OF MR. MONCK MASON'S FLYING MACHINE!!!
The article below this hysterical headline on the front page of the April 13, 1844, New York Sun was a detailed account of a balloon's passage across the Atlantic in three days. Carrying eight passengers, the "flying machine" launched in Wales and landed safely on an island off the coast of South Carolina. At the time, New York and much of Europe was "balloon-mad," and pilots and engineers predicted that an ocean crossing by balloon would happen in the near future. According to this article, the future had arrived.
The article, however, was a hoax written by Edgar Allan Poe, who had arrived in New York just a week earlier. To write it, Poe borrowed liberally from two authentic ballooning accounts by Monck Mason, a well-known aeronaut of the day.
The origin of the "Balloon Hoax" (as the untitled article is forever known) goes back nine years, when Poe published "Hans Phaal—A Tale" in the Southern Literary Messenger in 1835. The story described a journey-by-balloon to the moon and the lunar life found there by adventurous aeronauts. Two months after "Hans Phaal" appeared to little notice, the New York Sun began to publish a series of hoax articles about life on the moon recently discovered using a powerful new telescope. Lunar vegetation, lakes, and architecture were described, a species of bat-people observed alive and well on the moon. Collectively titled "Great Astronomical Discoveries," the articles were anonymously written by Richard Adams Locke and purportedly drawn from the findings of (real) astronomer Sir John Herschel recently published in an Edinburgh science journal. The series caused quite a stir, immediately becoming an international sensation. The stories were even quickly compiled into a pamphlet and published by the New York Sun, reportedly selling 60,000 copies within weeks of release. (The Library has a copy in its
special collections.) Locke's story was not discredited until several weeks after its publication — and even then the Sun did not print an outright retraction. The 1835 hoax had a long life and was exploited for all it was worth over decades: In 1852, the series was republished in pamphlet form as "The celebrated 'moon story': its origin and incidents" and in 1859 as "The moon hoax, or, A discovery that the moon has a vast population of human beings." Note the increasing acknowledgment of the article's true nature.
Poe supposedly observed all this with bitterness. He knew immediately the moon articles were a fake. They were filled with egregious scientific errors, he noted, and the idea was surely inspired, if not stolen, from his recently published "Hans Phaal." What made Poe, still struggling for the elusive writerly fame he craved, all the more angry was that he had been contemplating a sequel to "Hans Phaal" that bore even closer resemblance to "Great Astronomical Discoveries." He became convinced that he must have spoken to someone about this never-written story and that the idea was subsequently stolen from him.
In the wake of "Great Astronomical Discoveries," Poe became fascinated by hoaxes and how to successfully pull them off. He wasn't very good, it seems. His 1838 novella The Narrative of Arthur Gordan Pym, supposedly written by the fictional Pym himself, was heavily plagiarized from encyclopedias and seafaring narratives and reviews quickly voiced their suspicion that this was entirely fiction, not memoir. Richard Adams Locke, author of "Great Astronomical Discoveries," even wrote in the New Era that he believed the author to be Poe!
Poe's "Balloon Hoax" fared even worse, its reception marked by unfavorable and stinging comparisons to Locke's 1835 moon articles. On April 14, 1844, just one day after it was published, The Mercury (another NYC daily) carried a spoof of Poe's story headed "Astounding Intelligence from the Man in the Moon." On the 15th, the New York American reported that "The Sun has issued an Extra with a poor imitation of the Moon Hoax..." On the same day, James Gordon Bennett published an editorial in the NY Herald calling the story "blunderingly got up — so ridiculously put together — preposterously issued..." Word spread to other cities and The Saturday Courier in Philadelphia piled on: "We think every intelligent reader will be disposed to regard this attempt to hoax as not even possessing the character of pleasantry. The celebrated "Moon Hoax," issued by the New York Sun many years ago, was ingenious essay; but that is more than can be said of this "Balloon Story." On April 15th, two days after the article appeared, the Sun published a retraction.
Despite the hasty retraction, Poe described the scene around the New York Sun building on the day of publication as chaotic, near riotous. In a letter to the Columbia Spy, he wrote that
"…the "Balloon-Hoax" made a far more intense sensation than anything of that character since the "Moon-Story" of Locke. On the morning of its announcement, the whole square surrounding the "Sun" building was literally besieged, blocked up — ingress and egress being alike impossible....I never witnessed more intense excitement to get possession of a newspaper."
If this is the case, why did the Sun publish a retraction so quickly? By ignoring the initial skeptics, by stalling and prolonging the hoax, the Sun could have generated publicity and sold many more papers. Was Poe lying about the excitement at the Sun or did something else entirely transpire that day? The Edgar Allan Poe Society of Baltimore website includes another intriguing account, perhaps credible, perhaps not, that sheds some light on what might have happened. Thomas Low Nichols in his book Forty Years of American Life (1864):
"Poe [had] some faults of character and one great misfortune — ...a glass or two of wine made him not merely intoxicated but insane...He was sure always to do something to mar his fortunes. One day he sold an ingenious scientific hoax to a newspaper publisher for fifty dollars. The publisher brought it out in an extra; and Poe, crazed by a glass of wine, stood on the walk before the publisher's door, and told the assembled crowd that the extra was a hoax, as he personally knew, for he had written it himself. The crowd scattered, the sales fell off..."
Whatever really happened that day, the jig was up. The "Balloon Hoax" died a quick death, and Poe's life in New York was off to a rough start.
Poe's decision to write and publish the "Balloon Hoax" has the whiff of desperation. Was he still angry at the Sun for "stealing" his idea nine years earlier? Was he beset by financial insecurity and desperately needed money? It is worth noting that between "Hans Pfaal" and the balloon hoax, Poe had published some of his best and best-known work ("The Fall of the House of Usher," "The Pit and the Pendulum," "The Tell-Tale Heart," "Murders in the Rue Morgue," etc.), but was still struggling. Sadly, he was reportedly paid $50 for the "Balloon Story" (5,000 words), while Locke was reportedly paid $300 - $600 for his series many years before.
It is clear that Poe harbored a longstanding grudge against the press and literary critics, and perhaps exacting revenge for being unfairly treated was a motivation for his hoax. On February 28, 1845, less than a year after the Sun debacle, Poe would give a series of lectures at The Society Library on "poets and poetry in America." The reviews clearly show how deep and intense his feelings about the press were. The New York Herald said his lectures called out newspapers and magazines as being "venal, ignorant, and entirely unfit to form judgment on the most humblest productions of the writers of this county—of course, his own included." The Daily Tribune reported that he "indulged in indiscriminate and often unjust censure on whatever has hitherto aspired to be criticism in this Country, whether in the shape of Reviews, Magazines or Newspapers." It is reported that about three hundred New Yorkers attended his February 28th lecture (our current Members' Room has a packed capacity of about 70). The Daily Tribune, lamenting the state of intellectual life in New York at the time, noted that "any dancing dog or summerseting monkey would have drawn a larger house." Poe would lecture at The Society Library again in February 1848. His topic this time was, amazingly, "The Universe." About 60 people attended.
Despite its initial failure, the "Balloon Hoax" is still anthologized regularly and has enjoyed a long life as an early example of science fiction. (Who among us is reading Richard Adams Locke these days?) Furthermore, the story's reception may have opened up the author's mind to wider possibilities of storytelling. Poe noted that the "more intelligent believed, while the rabble rejected the whole." As John Tresch comments, "the age was so crowded with astonishing discoveries and inventions that the most intelligent course was to believe first and ask questions later." For a writer with an imagination like Poe's, this must have been a liberating realization.
The Strange Story of Nell Kimball
In 1970, Macmillan published a book called Nell Kimball: Her Life as an American Madam, by herself (edited and with an introduction by Stephen Longstreet). The book was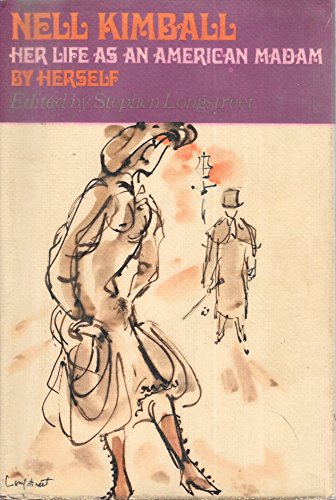 presented as a memoir by a deceased woman who began her underworld career as a prostitute in St. Louis in 1867 and who retired in 1917 as the madam of her own luxury house of prostitution in Storyville New Orleans. Stephen Longstreet claimed that Kimball wrote her memoirs in the 1920s and 1930s, and that he had the manuscript in his possession for decades, but no publisher would release it until the arrival of more permissive, less prudish, times. Few books like Nell Kimball existed, an authentic voice of a sex worker from a previous era. Some early reviews were positive: "In many respects it is a remarkable book by a remarkable woman," wrote the New York Times. Library Journal recommended that "a copy should be in every adult collection that is not controlled by prudes…impressive and compelling." Prompted by these favorable reviews or perhaps member requests, the Society Library acquired Nell Kimball on July 9, 1970, cataloged it as a biography and shelved it in stack 7.
The book was a hoax. There was no Nell Kimball, she was entirely a figment of Stephen Longstreet's imagination.
About forty years after publication, a friend gave me a copy of Nell Kimball and I was immediately intrigued. I enjoyed it, but something seemed "off." It seemed a little too entertaining, a little too smooth. It hit too many "marks," the voice seemed anachronistic. A little digging revealed that over the years the book had been outed as a fraud.
What's strange about Nell is that she won't die, despite the fact that the hoax was perpetrated by a virtually forgotten writer (who was never particularly well-known even while publishing). For example, the influential Italian publisher Alelphi Edizioni, formerly owned and the curated by the late Roberto Calasso, has kept an Italian translation of the book in print for well over a decade without acknowledging it as a hoax.
In 2021, while perusing the website of an esteemed publisher, I spotted Nell among the forthcoming books (with an iconic cover photo by E.J. Bellocq). I read the catalog entry and was surprised to see the book described as an autobiography, with no indication that it was fiction. A straight reissue, the introduction in this new edition was to be the same Stephen Longstreet text included in the first issue. No other contextual material was to be added.
Looking to refresh my memory about the book and its duplicitous origins, I did the same Google search I had done about ten years before, and again found an excellent review of the book printed in The Journal of Social History in 1972. The review laid out the facts: not only was Nell Kimball clearly a fabrication, but "editor" Longstreet also plagiarized much of it from Herbert Asbury's The French Quarter: An Informal History of the New Orleans Underworld (1936), as well as other Asbury works. (Asbury wrote a series of colorful, popular red light district and underworld histories, most famously The Gangs of New York.) I re-read the review in JSTOR, and the by-line jumped at me: James Wunsch.
Strangely, Jim Wunsch and I had met very recently and were collaborating on a project reviewing the Library's urban history holdings. I immediately emailed him the citation for the Journal of Social History review asking "Is this you?" He responded, "Yeah, the same guy, just a half century later." (Jim has a Ph.D. in History and wrote his dissertation on the history of prostitution.) We decided that the thing to do was to write the publisher. A few weeks after the email was sent to the editor, the date of Nell Kimball's publication was postponed, and shortly thereafter she disappeared from the publisher's list of forthcoming books.
Nell Kimball has not disappeared from the Library's collection, however. Our librarians decided that its seemingly never-ending notoriety make it worth keeping. Library members may still want to read it, despite it being a fake. Reclassified as fiction, relocated to the Closed Stacks, it joins both esteemed and unsavory company with the "Imagined biography" subject heading. Not taking any chances, a note has been added to the bibliographic record: "Revealed as a work of fiction. Fictionalized biography." With the book in Closed Stacks, no unsuspecting Library member innocently browsing our stack 7 biography collection will find Nell Kimball among "legitimate" biographies and memoirs and be duped into thinking they are reading the "real thing." But no matter how these books are treated in Library collections, there remains a mysterious but irresistible enjoyment in being duped that so many readers seem to share.
---
SOURCES & FURTHER READING
Literary Hoaxes:
Katsoulis, Melissa - Literary hoaxes: an eye-opening history of famous frauds (Skyhorse Pub., 2009)
Tattersall, Ian & Peter Névraumont - Hoax: a history of deception : 5,000 years of fakes, forgeries, and fallacies (Black Dog & Leventhal Publishers, 2018)
For further general reading on literary hoaxes, check these subject headings:
Washington Irving:
Bradley, Elizabeth L. - Knickerbocker: the myth behind New York (Rivergate Books, 2009)
Burstein, Andrew - Original knickerbocker: the life of Washington Irving (Basic Books, 2007)
Irving, Washington - A history of New York edited for the modern reader by Edwin T. Bowden (New College and University Press, 1964) [Bowden's introduction was consulted for this article.]
Irving, Washington - Diedrich Knickerbocker's history of New-York (Heritage Press 1940) [The introduction by John Winterich was consulted for this article.]
Jones, Brian Jay - Washington Irving: an American original (Arcade Pub, 2008)
Williams, Stanley Thomas - The life of Washington Irving (2 vols.) (University Press, 1935)
Edgar Allan Poe:
Goodman, Matthew - The Sun and the moon: the remarkable true account of hoaxers, showmen, dueling journalists, and lunar man-bats in nineteenth-century New York (Basic Books, 2008)
Poe, Edgar Allan - Collected works of Edgar Allan Poe (Edited by Thomas Ollive Mabbott) (Belknap Press of Harvard University Press, 1969-)
Tresch, John - The reason for the darkness of the night: Edgar Allan Poe and the forging of American science (Farrar, Straus and Giroux, 2021)
The Edgar Allan Poe Society of Baltimore website was very useful, including the following:
The digitized full-text of the The Poe Log: A Documentary Life of Edgar Allan Poe, 1809-1849, by Dwight Thomas & David K. Jackson (G.K. Hall, 1987). Also available at the New York Society Library.
Doris V. Falk, "Thomas Low Nichols, Poe, and the 'Balloon Hoax'," Poe Studies, December 1972, Vol. V, No. 2, 5:48-49
Nell Kimball:
Wunsch, J. L. (1972). [Review of Nell Kimball: Her Life as an American Madam, by N. Kimball & S. Longstreet]. Journal of Social History, 6(1), 121–126. http://www.jstor.org/stable/3786441
Stephen Longstreet Papers. Yale Collection of American Literature, Beinecke Rare Book and Manuscript Library. https://archives.yale.edu/repositories/11/resources/1485