Presidents and Their Books
Sunday, February 11, 2018
The Library will be closed Sunday and Monday, Februrary 18th and 19th for Presidents' Day, and if you want to celebrate the holiday with some Presidential reading, you are sure to find something of interest in the Library collection.
Searching our online catalog using the subject "Presidents—United States—Biography" yields 674 results; and this doesn't include books on specific elections, policy decisions, mistresses, or the myriad other subject headings that librarians use to subdivide the subject "Presidents—United States." The earliest item in our collection seems to be an 1800 pamphlet by James Cheetham (credited as "A Citizen of New York") titled An Answer to Alexander Hamilton's Letter, Concerning the Public Conduct and Character of John Adams, Esq., President of the United States, and we continue to add dozens more Presidential biographies annually. A list of recent acquisitions is included below.
If you want to browse the stacks, you can find most birth-to-grave Presidential biographies in stack 7 where books are arranged alphabetically on the shelves by subject (then by author). You will also find many books on the Presidents in the American History section of stack 2. The Dewey Decimal number for American History is 973 and is further subdivided in chronological order:
973.4 - 1789-1809
973.5 - 1809-1845
973.6 - 1845-1861
973.7 - 1861-1865 Civil War & Lincoln administration
973.8 - Reconstruction period 1865-1901
973.9 - 1901 - 2000 (further subdivided chronologically)
973.93 - 21st century
Of all the Presidents, Abraham Lincoln has been the subject of the most books, and although we have hundreds of titles covering various aspects of Lincoln's private and public life (with
many more sure to come) our holdings constitute a very small portion of the astonishing 15,000 books that have been written about our 16th President. In The Society Library collection, former Library member George Washington takes second after Lincoln, with FDR third. Books on our current President have already created a publishing mini-industry. Since 2016, we have added 15 books on Donald Trump to the collection, just a little over a year into his term. Interestingly, decades beforeThe Dangerous Case of Donald Trump: 27 Psychiatrists and Mental Health Experts Assess a President generated so much controversy, Sigmund Freud concocted his own controversial psychological study of President Woodrow Wilson and you can find it in our stacks. The dust jacket promises a "devastating" portait of a "deeply disturbed" man.
In addition to our print holdings, the Library also provides members with remote access to the University of Virginia's impressive Founding Era Collection: definitive, searchable, full-text digital editions of diaries, letters, and legal and administrative papers from John Adams, George Washington, James Madison, Thomas Jefferson, and more. This resource contains a handful of letters held in The Society Library's manuscript collections, such as the one from John Adams seen here (click to see larger image).
Reading About Presidents Reading
A few Presidents are well-known for being exceptionally voracious readers (Thomas Jefferson, John Adams, and Theodore Roosevelt, particularly). If you are curious about what the Presidents read, this 2008 New York Times article by bestselling biographer Jon Meacham (Andrew Jackson, George H.W. Bush, etc.) broadly discusses Presidential reading habits, as does this Washington Post article by Tevi Troy. In January 2017, Barack Obama sat down for a revealing interview with Michiko Kakutani, the former editor of the New York Times Book Review, to discuss what books mean to him, and you can find a long list of his book recommendations here. If you care to go deeper into what the Presidents read, the Library has several book-length treatments of the subject in our collection: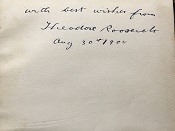 Theodore Roosevelt appears to have been the most insatiable reader among the Presidents. According to Edmund Morris's biography, Roosevelt read a book a day, minimum, in addition to newspapers and periodicals. Roosevelt was also an incredibly prolific writer. He is listed as an author of 70 books in the Library catalog, including eight volumes of collected correspondence, books on hunting, politics, the military, a 4-volume history of the West, and more. That is a lot of books for any author, never mind one who held public office for 28 years. Roosevelt donated a copy of The History of the Late Province of New York, From Its Discovery, To the Appointment of Governor Colden In 1762, by William Smith, to the Library, and we have inscribed copies of his Addresses and Presidential Messages of Theodore Roosevelt, 1902-1904 (see image) and Fear God and Take Your Own Part. Roosevelt's wife, Edith Kermit Roosevelt, to whom books "were the stuff of life," was a long-time and very active Society Library user and kept up a voluminous correspondence about books with former NYSL Head Librarian, Marion King. In 2009, the Library based an exhibition on their letters. The Exhibition catalog is available to borrow and we have copies for sale (ask at the circulation desk).
The Library's City Readers database includes book borrowing records of several Founding Fathers from 1789 to 1805 (when we shared a building with the federal government in Federal Hall),
including 42 members of the first nine American Congresses and the first two Presidents of the United States. (The Library's manuscript collection also includes several letters from Washington and Adams. See accompanying images for two examples.) By all accounts John Adams was an inspired reader with a personal library of 3,000 volumes, and he checked out two volumes of Elements of Criticism, by Henry Home Kames, from the NYSL in the summer of 1789, when he held the office of Vice President. That book, the actual copy, is still in our collection. Adams's page in City Readers can be seen here. George Washington also checked out two books from The Society Library. In October 1789, he borrowed The Law of Nations, or, Principles of the Law of Nature, by Emer de Vattel, and The Parliamentary Register, or, History of the Proceedings and Debates of the House of Commons. (See Washington in City Readers.) Washington's borrowing kicked up a bit of controversy over two centuries later when it was discovered that he may not have returned those books. You can read about that here. For President's Day 2016, Events Coordinator Sara Holliday presented this closer look at Presidents and Vice Presidents in City Readers on the Library blog. Learn more about the City Readers project here and here.
If you are interested in Presidential Libraries, Library cataloger Matthew Bright wrote a blog post last year on the subject and it is available here.
First Mothers: The Women who Shaped the Presidents | Bonnie Angelo
Obama: the Call of History | Peter Baker
The Political Life of Abraham Lincoln | Sidney Blumenthal
Jefferson: Architect of American Liberty | John B. Boles
Nixon's White House Wars: The Battles that Made and Broke a President and Divided America Forever | Patrick J. Buchanan
The Spoils of War: Greed, Power, and the Conflicts that Made our Greatest Presidents | Bruce Bueno De Mesquita And Alastair Smith
Lincoln in His Own Time: A Biographical Chronicle of His Life, Drawn From Recollections, Interviews, and Memoirs by Family, Friends, and Associates | Harold K. Bush, ed.
The Lost Founding Father: John Quincy Adams and the Transformation of American Politics | William J. Cooper
Franklin D. Roosevelt: A Political Life | Robert Dallek
A Consequential President: The Legacy of Barack Obama | Michael D'Antonio
Richard Nixon: The Life (ebook available) | John A. Farrell
Rising Star: The Making of Barack Obama | David J. Garrow
Presidents' Secrets: The Use and Abuse of Hidden Power | Mary Graham
The Personal Memoirs of Ulysses S. Grant: The Complete Annotated Edition (new edition of this classic)
Devil's Bargain: Steve Bannon, Donald Trump, and the Storming of the Presidency (ebook available) | Joshua Green
The Unexpected President: The Life and Times of Chester A. Arthur | Scott S. Greenberger
George Washington: A Life in Books | Kevin J. Hayes
Jefferson's Daughters: Three Sisters, White and Black, in a Young America | Catherine Kerrison
Kennedy and King: The President, the Pastor, and the Battle over Civil Rights | Steven Levingston
Thanks, Obama: My Hopey, Changey White House Years | David Litt (memoir by Obama speechwriter)
President Mckinley: Architect of the American Century | Robert W. Merry
We are the Change We Seek: the Speeches of Barack Obama | edited By E.J. Dionne Jr. And Joy-Ann Reid
Playing With Fire: The 1968 Election and the Transformation of American Politics | Lawrence O'Donnell
The Road to Camelot: Inside JFK's Five-Year Campaign | Thomas Oliphant And Curtis Wilkie
Six Encounters with Lincoln: A President Confronts Democracy and its Demons | Elizabeth Brown Pryor
George Washington: the Wonder of the Age | John Rhodehamel
Ties that Bound: Founding First Ladies and Slaves | Marie Jenkins Schwartz
Reagan Rising: The Decisive Years, 1976-1980 | Craig Shirley
Obama: An Intimate Portrait | Pete Souza ; Foreword By Barack Obama
Bill Clinton | Michael Tomasky
The Last Republicans: Inside the Extraordinary Relationship Between George H.W. Bush and George W. Bush | Mark K. Updegrove
Hoover: An Extraordinary Life in Extraordinary Times | Kenneth Whyte
Fire And Fury: Inside the Trump White House (ebook also available) | Michael Wolff
Friends Divided: John Adams and Thomas Jefferson | Gordon S. Wood