Reference Collection Spotlight: The Dictionary of American Regional English
Thursday, August 21, 2014
The Dictionary of American Regional English
(6 volumes) | Frederic G. Cassidy, chief editor | Belknap Press of Harvard University Press | HBR 427 D
http://www.hup.harvard.edu/features/dare/
On October 16, 1985 the Library received the first volume of The Dictionary of American Regional English. Twenty-eight years later, on September 10, 2013, the sixth and final volume arrived soon after publication. Factoring in the twenty-plus years of preparation required before publication of Volume One, this epic lexicon was about fifty years in the making.
Over the years, the history and methodology of the set has taken on a near-mythical status with good reason: The DARE is an exceptionally ambitious undertaking that employed unique methods of research with impressive results. To summarize a long story: Frederic Cassidy, a Professor of English at the University of Wisconsin in Madison, was appointed chief editor of the project in 1962. He developed a survey with about 1,600 questions, covering specific facets of day-to-day life, such as marriage, food, time, entertainment, household items, money, weather, etc. For example: "What do you call someone who has a very high opinion of himself?" "What do you call someone who sells small articles on a street corner?" "What words do you have for gravy?" (The complete questionnaire is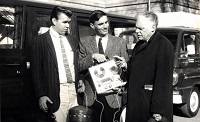 reproduced in Volume Six.) From 1965-1970, he dispatched eighty researchers driving Slant Six-powered "word wagons" into 1,002 communities across the United States with his comprehensive survey in hand. Over six years, they interviewed 2,777 informants in these communities, asking them about local names for the 1,600 questionnaire items in and around, to paraphrase William Faulkner, the "little postage stamp of soil" that they called home. Most informants were middle-aged or older and had lived in the community their entire lives, making them very familiar with the history of language in their area. The questionnaires took about a week each to complete, and 2.3 million responses were logged. Sadly, Cassidy—who should probably be mentioned in the same breath as more famous preservers of American folk culture such as Cecil Sharp, Alan Lomax, John W. Work, or Zora Neale Hurston—did not live to see completion of the dictionary. For a complete history of the project, see the introduction to Volume One, or read Simon Winchester's article in Lapham's Quarterly here.
The result is a five volume (plus supplement) set, with over 60,000 entries and nearly 3,000 maps documenting the usage and distribution of American folk language; a monument to the inventiveness, richness, humor, and strangeness of American English that is largely already lost to history. Entries include definitions and parts of speech, alternate spellings and pronunciations, etymology, geographical origins, and synonyms from various parts of the country. Quotations to illuminate word usage, and relevant bibliographies, are sometimes included. Given the limited time frame of the fieldwork, the set cannot help but be historical in its scope and usefulness: Slang changes daily, the DARE is a snapshot. But for writers of historical dialog—whether in plays, fiction, or film—and for researchers of American history, it is an indispensable resource. Or, if you are just curious about the geographical distribution of "raining buckets" vs. "raining bullfrogs" this is the place to go.
Slang is, of course, still a thriving, living, changing beast—but the regional differences in our folk and popular culture have been quickly dying since mass media came to dominate our lives in the 20th century. Thanks to the vision of Frederic Cassidy, and the hard, unsung work of a team of contributors, our historical language is preserved in between the covers of this wonderful set.