Vintage Gardening Books
Thursday, May 27, 2021
Welcome to Part Two of our gardening book series, in which we explore the weird and wonderful world of vintage gardening books. (Find Part One here.) Here are just a few to whet your appetite. Members with a keen eye can find many similar treasures in our open stacks.
The flower garden, or, Monthly calendar of practical directions for the culture of flowers by Martin Doyle (1835)
From the outside, this book doesn't look particularly distinctive. However, it is filled with sweet hand-painted prints, and has a sort of "roll up your sleeves and get to it" attitude that I love. It provides a calendar with "Work to be done." And, thanks to this book, I will forevermore refer to the tulip as "The fop of flowers."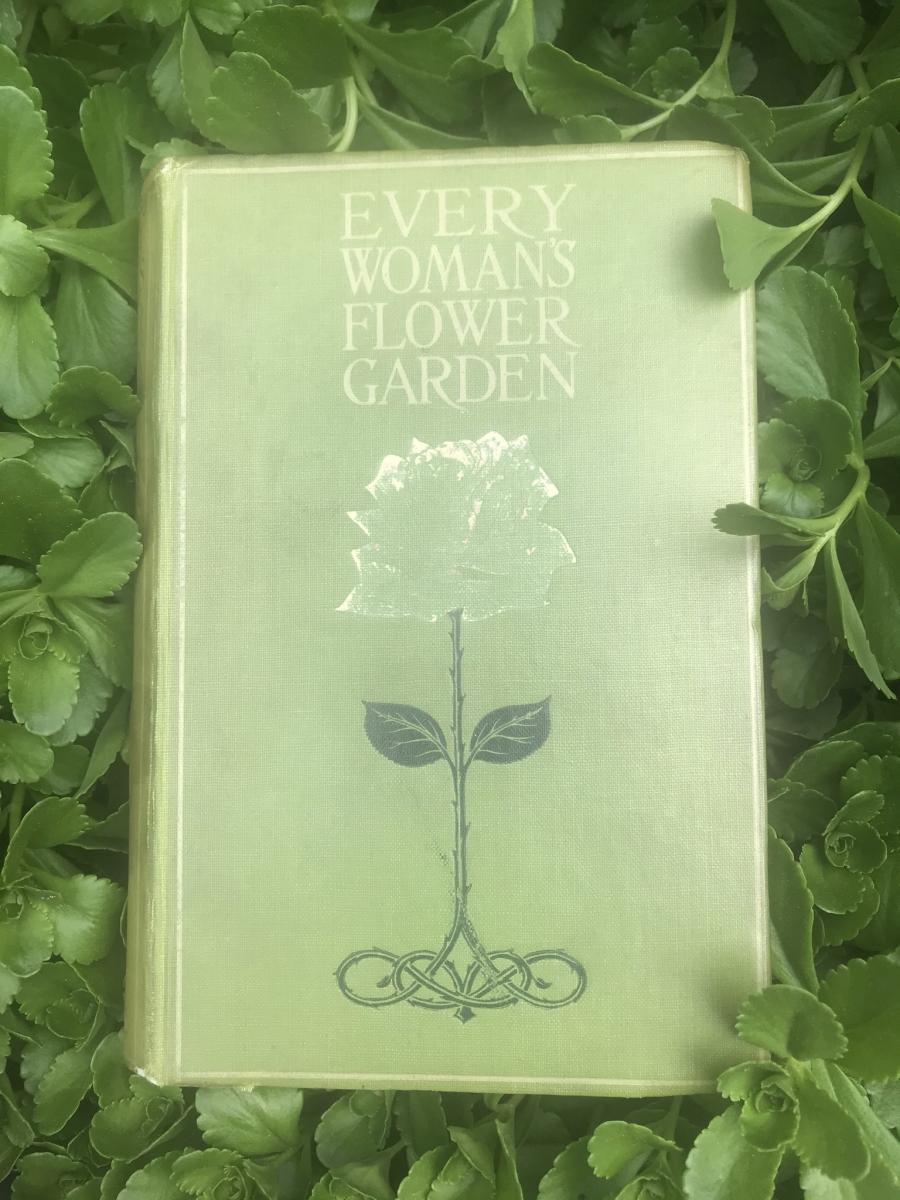 Every woman's flower garden : how to make and keep it beautiful by Mary Hampden (1915)
It is interesting to know that when this book was written in 1914, people were still vigorously debating whether to soak their sweet pea seeds. Some things never change. Some of the advice sounds all-too familiar: "The woman gardener must steel her heart against the pretty sets of tools 'for ladies'…these are usually toys that should be avoided, when real hard work is in prospect."
But then we get to Chapter 3: How to garden comfortably. "At some horticultural training colleges, the costume consists of very short skirts over very visible knickers…The home woman seldom wishes to "wear the breaches" in quite this fashion." Instead, "skirts of ankle length, and kickers beneath, all of waterproof material." are recommended. Sounds...humid.
It is interesting to think about how drastically the world has changed since this book was written. "Now the next problem for the woman gardener is how to obtain the necessary manures. In most towns there are manure merchants, but any cab or livery stable will sell horse-manure; most dairymen will provide cow-manure if it is fetched…" Indeed, now there is nary a manure peddler to be found on all the Upper East Side.
But above all, remember that "It is an error to plant blackberries, or fruiting brambles of any kind, near a boundary; boys will find out the harvest, and not be deterred by any obstacle from levying toll on it."
The flower and the bee : plant life and pollination by John H. Lovell (1918)
It is interesting to consider this book in light of current issues surrounding declining bee populations. It's charmingly self-described as "observations of the life-relations of flowers." I was particulary intrigued by descriptions of "monotroopic bees," or "bees which visit only one kind of flower." Perhaps a modern bee enthusiast can take a crack at it and see how much has changed since 1918.
Freaks and marvels of plant life, or, Curiosities of vegetation by M.C. Cooke (1882)
As promised, this is a curious book, though perhaps not as fantastical as the title might suggest. Some highlights include pitcher plants, fly-traps, plants that climb with tendrils that rotate up to one turn an hour, highly dubious luminous plants, mystical plants, and plants that mimic other plants.
The Iris : a treatise on the history, development and culture of the iris for the amateur gardener by John C. Wister (1927)
"Here we participate in the widespread movement to translate the Iris from an esoteric cult into a general joy." Almost 100 years later, these early flower trendsetters would be glad to know that they have succeeded. Irises are downright common in modern gardens. Take a look inside to discover fun Iris facts, such their use as a sixth-century freckle-remover, and a 16th-century mouthwash, or simply pore over the history of iris breeding in painful detail.
How to know the ferns : a guide to the names, haunts, and habits of our common ferns by Frances Theodora Parsons (1899)
You may recognize this cover from our recent Margaret Armstrong exhibit. In addition to some gorgeously illustrated ferns, you may enjoy some of their wonderfully weird names. Some of my favorites are Adder's Tongue, Hairy Lip Fern, Spleenwort, Moonwort, Fragile Bladder Fern, Bulblet Bladder Fern, and finally the evocatively named Walking Fern.
House plants and how to grow them by Parker T. Barnes (1909)
Houseplants, it would seem, were big in 1909, were big in the 1970's, and I'm here to tell you that they're big again. And how can you resist a book which states "The purpose of the present volume is to discuss fully those plants which are sure to succeed."
Need to know the best flowering begonia? (Spoiler: It is Begonia Glorie Lorraine.) Is your rubber plant too tall? (yes.) Want to know how to "force" a plant with ether? (probably you do not.)
A manual of weeds by Ada E. Georgia (1914)
According to the author, "A weed is a plant that is growing where it is desired that something else shall grow." But is it really so simple?
First off, this has to be one of the most gorgeous books about weeds I have ever seen. Secondly, it is ripe with imagery to delight any horror novelist.
Let us examine the innocent-sounding Clover Dodder. Sounds like a sweet little plant, yes? But consider its other names. Stangleweed. Devil's Hair. Devil's Gut. Hellbind. A single seed is capable of "binding the herbage into a tangled mass and sucking out its life."
Tremble before the common Field bindweed: "a most obnoxious weed ...twining about and over any plant within reach, robbing it of air and light while the roots below are starving it of food and moisture."