Visit from the NYC Urban Sketchers
Friday, March 20, 2020
We were pleased to host a group of artists from the NYC Urban Sketchers in late February. The Sketchers visit locations around the New York City area and find inspiration for drawing and painting in all sorts of media.
Many of the artists were kind enough to share their work with us - including Danna Feintuch (@dannavision on Instagram), whose piece is shown in the sidebar. Click on any small image for a larger version.
Donna David
Veronika Doljenkova, on antique paper (@nycsketchartist)
Alba Toledo - in progress with the 'model,' and the finished drawing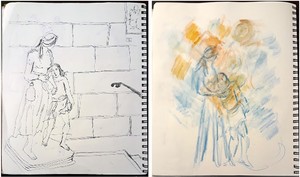 Marianne Milzoff, in two media
Elana Amity (@elanaamity)
Sheila McManus
Muriel Appelbaum
Margaret Casagrande
Jin Kim

Raylie Dunkel
At the end of the time, the artists shared their work with one another.