When Life Gives You a Pandemic, Wear a Mask…
Tuesday, May 11, 2021
One of the things I have most missed about hosting in-person storytimes at the NYSL is donning a zany costume. And though I've utilized the odd prop during our online sessions, it's not the same. In the meantime, I've channeled my sentiment that every day could be Halloween into my mask collection. Before the Library reopened last summer, I began collecting literary-themed masks so I could greet our returning members with, if not a visible smile, at least the perfect facial accessory.
I now present a parade of my most shelf-worthy masks. Stop by the Children's Library and you might catch me in one someday. Speaking of fashion, check out the video chat fashion-icon member Tim Gunn held with fellow NYSL member Elizabeth Winthrop, and don't forget to support the Library. Oh, and please do wear a mask at all times that you are visiting the Library!
These two masks came from a maker who calls herself the Stand Up Librarian.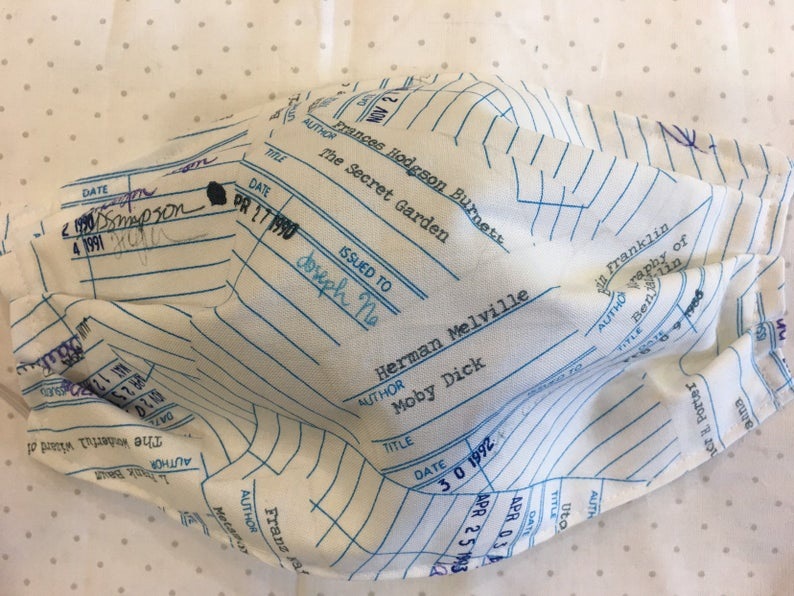 You can spot snippets of cards for The Secret Garden, The Wonderful Wizard of Oz, Moby-Dick, and Metamorphosis. Someday I hope to find a swatch of this fabric highlighting my favorite book, Cloudy with a Chance of Meatballs.
This is a shelf-tastic mask, though you won't find any live cacti or cats at the NYSL, nor in my home library, as I'm allergic to claws and prickles.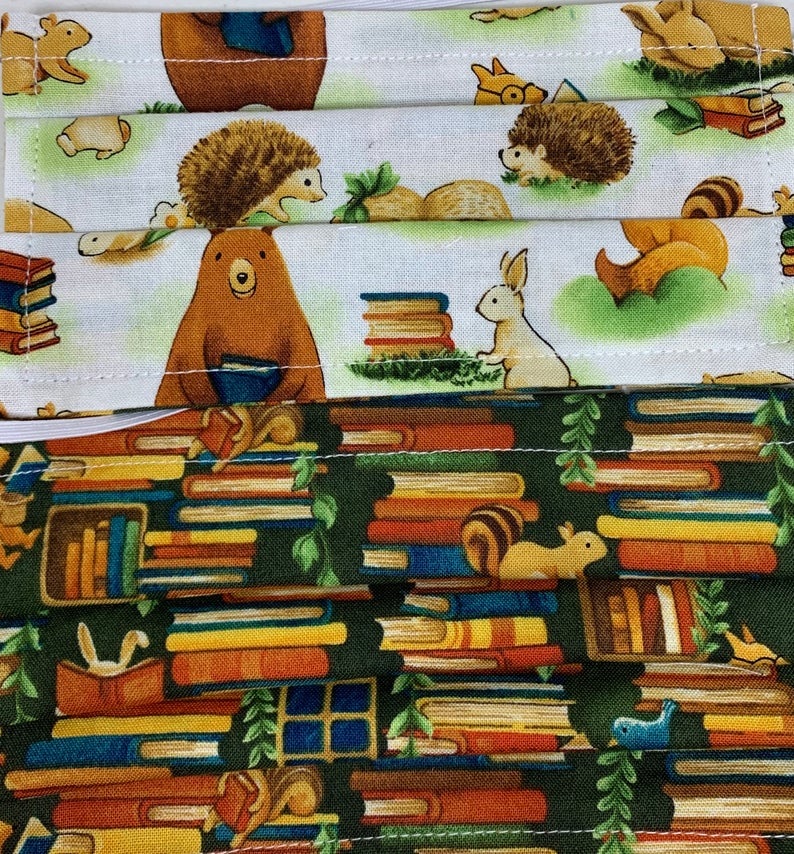 This mask is double-sided, featuring a variety of forest friends who also happen to be eager readers.
Remember that I mentioned that I love Halloween? Here's my spooky mask featuring some ghosts reading booooks!
As an occasional dogsitter of a local Labradoodle, I couldn't resist this mask when I saw that it featured Librarydoodles! It's perfect for dog lovers.
These final two masks pair nicely with t-shirts from my ever-growing collection referencing great picture books, featuring the Very Hungry Caterpillar and the precocious pig Olivia.
As you can see, there are a lot of fun masks out there to provide a bit of levity in this uncomfortable period we are all having to tolerate. So why not join me in making the most of it by donning one that makes lemonade out of lemons?