The Natural World of New York City
It may seem as though centuries of change wrought by a population of over eight million people should have all but decimated New York City's natural world, but much still remains. A careful look around us can reveal a surprisingly varied, heroically resilient, and often beautiful array of animal and plant life thriving within this busy world of concrete, skyscrapers, and mass transit. But before you explore the city, be sure to explore our stacks. Our collection contains a variety of books that illuminate the natural wonders of the city. A handful of books are described below, while a longer list of titles in our collection follows.
Barnard, Edward Sibley | Central Park Trees and Landscapes: a Guide to New York City's Masterpiece (Columbia University Press, 2016)
Part tree guide, part history of Central Park's development, this volume provides a good introduction to basic botany using the flora of Central Park. Arrangement and shapes of foliage are described in accessible language, and photographs of bark, leaves, flowers, and the whole tree serve as a full view of what makes each tree unique. Each section of the part is discussed with panoramic photos and a brief historical overview, and the authors offer a useful perspective on how such a large piece of land came to be set aside for a park in the center of a rapidly developing city. The book's timeline of surveying and development does omit the early minority community Seneca Village, displaced when the plan for the park was approved.
Chin, Ava | Eating Wildly: Foraging for Life, Love and the Perfect Meal (Simon & Schuster, 2014)
Library Journal called this memoir about foraging for wild edibles in New York City, written by the author of the New York Times "Urban Forager" column, one of the Best Books of 2014.
Day, Leslie | Field Guide to the Street Trees of New York City (Johns Hopkins University Press, 2011)
A focused complement to Day's previous work, Field Guide to the Natural World of New York City, this photo-heavy book is full of helpful information for anyone who has ever wondered what kinds of trees shade the city. As a thorough guide, it even provides locations in each of the five boroughs where you can view a live example of each profiled tree.
Day, Leslie | Field Guide to the Neighborhood Birds of New York City (Johns Hopkins University Press, 2015)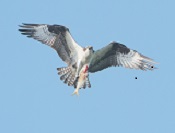 Day completed her triology of field guides with this book devoted to birds. A review in a recent issue of the New York Review of Books praised it as a handsome introduction to the riches of New York's bird life. Neither a comprehensive field guide nor a detailed scientific analysis, Leslie Day's book provides basic information for about 90 species found in the city's parks (there are about 300 species in New York City), including when and where they can be found in the city. Day's book also includes photographs of all species covered in the text. A list of places in the city to see birds is included at the end of the book. For more books on bird watching and birds in New York, see the list of further reading below.
Kadinsky, Sergey | Hidden Waters of New York City: a History and Guide to 101 Forgotten Lakes, Ponds, Creeks, and Streams in the Five Boroughs (The Countryman Press, 2016)
Although the title is a bit misleading—not all of these waterways are hidden—Kadinsky's book is a fascinating tour of the lesser-known waterways that have shaped our city in so many ways. Many of these bodies of water are indeed hidden—Collect Pond, for example, the city's first water source buried and turned into the notorious slum district known as Five Points—but many are in plain sight. Kadinsky provides a history of each, and it makes for compelling reading.
Mittelbach, Margaret & Michael Crewdson | Wild New York: a Guide to the Wildlife, Wild Places & Natural Phenomena of New York City (Crown, 1997)
After an overview of the city's geological history and a description of its primary ecosystems, Mittelbach and Crewdson describe some of the animals and plants that thrive alongside the millions of human inhabitants of New York. A chapter on "esoteric natural phenomena" is then followed by 33 walking tours, encouraging readers to explore the city's natural wonders. Illustrations, including 16 pages of color photos, and sidebars filled with fascinating digressions make for compulsive browsing.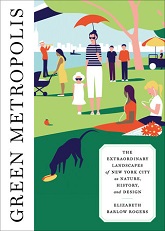 Rogers, Elizabeth Barlow | Green Metropolis: the Extraordinary Landscapes of New York City as Nature, History, and Design (Alfred A. Knopf, 2016)
A founder of the Central Park Conservancy and the first Central Park Administrator, Rogers has been writing books about the nature and landscapes of New York City since 1971 when she published The Forests and Wetlands of New York City. Following a natural history of the entire city, her latest book introduces readers to seven "green spaces" in disparate locations throughout the five boroughs. Rogers states in her preface that the "underlying theme is that nature is ubiquitous, a dynamic force that, historically and now, makes New York City intrinsically a green metropolis."
Sanderson, Eric W. | Mannahatta: a Natural History of New York City (Abrams, 2009)
Sanderson brings his unique perspective as a landscape ecologist to this remarkable ecological history of Manhattan, starting with how it would have appeared to the Lenape in 1609. The book is a companion volume to the ambitious Manahatta Project, which uses computational geography and mapping to recreate, block-by-block, how the island's ecosystem and landscape has transformed drastically over the past 400 years. Since the book was published in 2009, the project has expanded in its scope to become the Welikia Project, which plans to include the same level of detail for all five boroughs.
Steinberg, Theodore | Gotham Unbound: The Ecological History of Greater New York (Simon & Schuster, 2014)
Winner of a Society Library New York City Book Award in 2014, Steinberg looks at centuries of ecological transformation on the island of Manhattan—from the first Dutch settlers draining wetlands, to city planners such as Robert Moses, to the devastation wrought by Hurricane Sandy. Gotham Unbound "tells a story of common rights and private property, land grants and landfills, drainage and dams, plumbing and garbage, eutrophication and mosquito control, politics and doublespeak, salt marshes and wetlands, and the deep ecological importance of the points where land meets sea" (Publisher's Weekly).
Sullivan, Robert | Rats: Observations on the History and Habitat of the City's Most Unwanted Inhabitants (Bloomsbury, 2004)
Like Thoreau, Robert Sullivan observes nature. His location, however, is far from bucolic—his focus is on the cityscape of New York City and our ubiquitous "mirror species", rats. To learn more about his subject, Sullivan interviews exterminators and sanitation workers. He undertakes first-hand observation by setting himself up in a prime rat-watching location, a filthy New York alley, and records with some humor his contemplations on the uneasy coexistence between rats and humans. Recommended for anyone who is curious about the fauna of the city beyond bird watching.
Swett, Benjamin | New York: City of Trees (The Quantuck Lane Press, 2013)
An estimated 5.2 million trees grow in our city, and Swett takes readers on a personal tour of what he sees as particularly notable, noble specimens. His trees' stories are told in one page pieces opposite a photograph. Swett is a skilled photographer, and writes with a light touch, carrying his knowledge and love of this subject with ease. Swett's book won a Society Library New York City Book Award in 2013.
FURTHER READING
Arbib, Robert S., et al. | Enjoying Birds Around New York City; An Aid to Recognizing, Watching, Finding, and Attracting Birds in New York City, Long Island, the Upstate Counties of Westchester, Putnam, Dutchess, Rockland, and Orange, and Nearby Points in New Jersey and Connecticut (Laboratory of Ornithology, Cornell University; Houghton Mifflin, 1966)
Beebe, William | Unseen Life of New York: as a Naturalist Sees It (Duell, Sloan and Pearce, 1953)
Burton, Dennis | Nature Walks of Central Park (H. Holt, 1997)
Day, Leslie | A Field Guide to the Natural World of New York City (Mark Klinger, ill.; foreword by Michael Bloomberg) (Johns Hopkins University Press, 2007)
Fisher, Chris C. | Birds of New York City, Western Long Island & Northeastern New Jersey (Lone Pine Pub., 1998)
Fowle, Marcia T., et al. | The New York City Audubon Society Guide to Finding Birds in the Metropolitan Area (Comstock / Cornell University Press, 2001)
Frank, Saul | City Peregrines: a Ten-year Saga of New York City Falcons (Hancock House, 1994)
Hiss, Tony | H2O Highlands to Ocean: a First Close Look at the Outstanding Landscapes and Waterscapes of the New York/New Jersey Metropolitan Region (Geraldine R. Dodge Foundation, 2004)
Kieran, John | A Natural History of New York City, a Personal Report after Fifty Years of Study & Enjoyment of Wildlife Within the Boundaries of Greater New York (Houghton Mifflin, 1959)
Kinkead, Eugene | A Concrete Look at Nature: Central Park (and other) Glimpses (Quadrangle/New York Times Book Co., 1974)
Levy, Bob | Club George: the Diary of a Central Park Birdwatcher (Thomas Dunne Books, 2006)
McCabe, Robert A. | The Ramble in Central Park: a Wilderness West of Fifth (Abbeville Press, 2011)
McCully, Betsy | City at the Water's Edge: a Natural History of New York (Rivergate Books / Rutgers University Press, 2007)
Matthews, Anne | Wild Nights: Nature Returns to the City (North Point Press, 2001)
Ricciuti, Edward R. | The New York City Wildlife Guide: Wild Creatures of New York City and Where to Find Them (Schocken Books, 1984)
Rivel, Deborah & Kellye Rosenheim | Birdwatching in New York City and on Long Island (University Press of New England, 2016)
Rogers, Elizabeth Barlow | The Forests and Wetlands of New York City (Little, Brown, 1971)
Schuberth, Christopher J. | The Geology of New York City and Environs (The American Museum of Natural History, 1968)
Smith, James Reuel | Springs and Wells of Manhattan and the Bronx, New York city: At the End of the Nineteenth Century (New-York Historical Society, 1938)
Still the Same Hawk: Reflections on Nature and New York | John Waldman, ed. (Empire State Editions. Fordham University Press, 2013)
Swett, Benjamin | Great Trees of New York City: a Guide (City of New York Parks & Recreation: New York Tree Trust, 2000)
Vornberger, Cal | Birds of Central Park (H.N. Abrams, 2005)
Waldman, John R. | Heartbeats in the Muck: the History, Sea Life, and Environment of New York Harbor (Lyons Press, 1999)
Winn, Marie | Central Park in the Dark: More Mysteries of Urban Wildlife (Farrar, Straus and Giroux, 2008)