21st Annual Young Writers Awards
Saturday, May 20, 2023
And we're back! In person, that is… after three years of Zoomed ceremonies, we were thrilled to host the 21st Annual Young Writers Awards ceremony at the Library once again!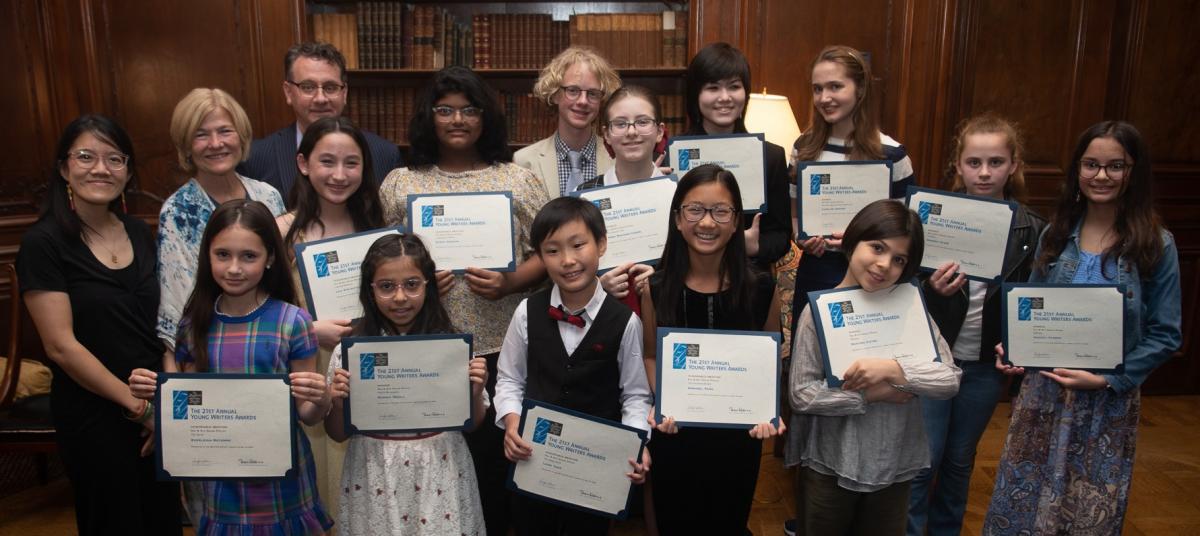 We gathered together on Tuesday, May 16 in the Members' Room. Over 150 children and teens had submitted poetry or prose entries, and the judges selected thirteen winners and honorable mentions. All the winners were able to join us and invited their families and friends to the spectacle. Our team of judges includes poet Dave Johnson, children's author Karina Yan Glaser, children's & YA author (as well as adult Prompt! leader) Carol Weston, and writer Edra Ziesk.
This really is a family affair, as we often find younger siblings following in their older ones' footsteps. Lily Kim-Yatter (center) earned an honorable mention in the prose category, and back in 2017, her older sister Sophie (right) did the same. Here they pose with their mom, Suzanne.
Celi Flores (right) placed first in the same category with her story, "Typhoon." Her mother Ellen Hagan has led several poetry writing workshops at the Library, so writing is in this family's blood.
Another winner Martina Catino examined the program as her younger sister Anna enjoyed some coloring. Perhaps she'll be entering our Young Cartoonists Awards in the future??
Winner Nova Macknik-Conde and her mother Susana Martinez-Conde shared a moment preceding the event.
High school classmates Lucie Coeny (left) and Caroline Gordon (right) discussed their award-winning entries. Lucie's story and Caroline's poem wowed the high school level judge Edra Ziesk.
One of the Library's trustees, George Frelinghuysen, enjoyed reading over the winning entries in the program.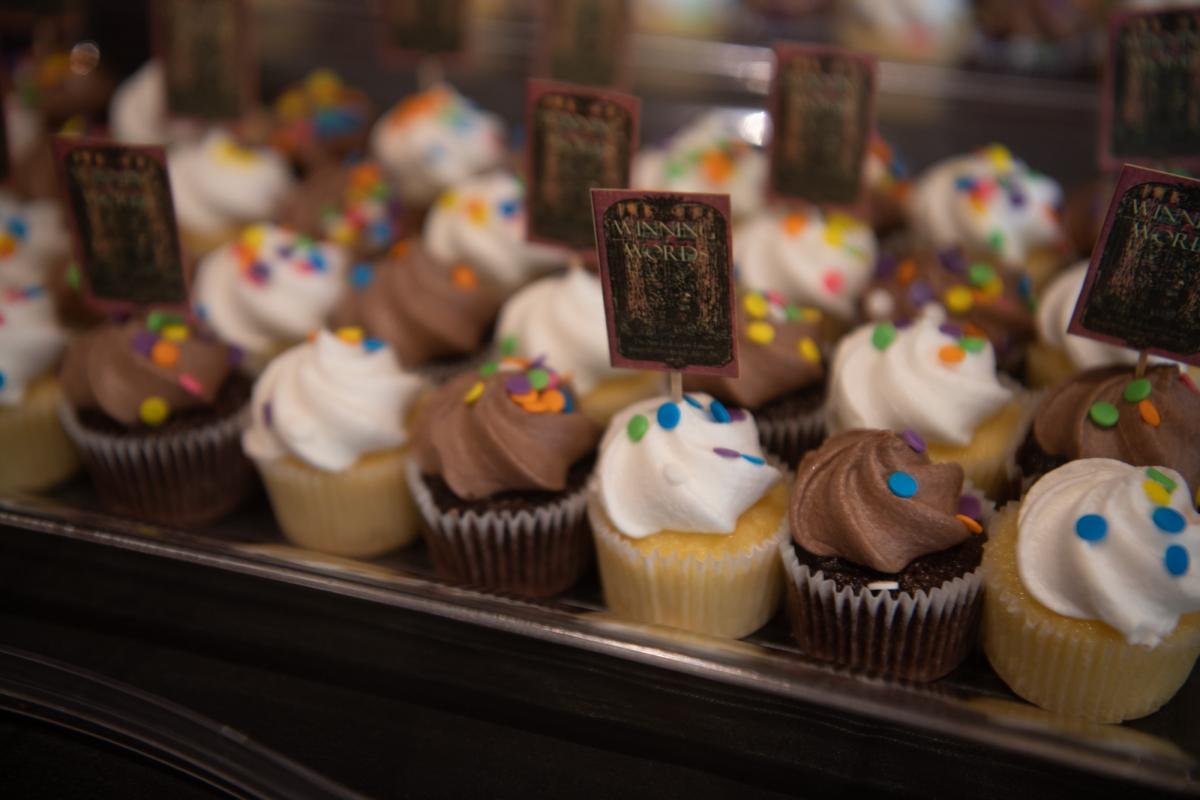 Of course, after all the awards were handed out, we got to feast upon CUPCAKES! Several were festooned with toppers of miniature Winning Words, the book that collected the first ten years of YWA entries, featuring cover and interior art by judge emeritus and prolific author-illustrator Robert Quackenbush. Be sure to check out the exhibition chronicling his life's work now through December 31, 2023, in the gallery just outside the Members' Room.
After the certificate presentation, the winners also had time to meet with the judges. Here Annabel Feng, flanked by her younger sister, chatted with judge Dave Johnson.
Some winners may also bask in the glory of their teacher's praise. Poet Oscar Paduano's English teacher, Elizabeth Wainwright (center, back to camera), came to support him along with his family. In a surprise twist, Oscar's cousin Kirsten is also a member of the NYSL staff! All entries are judged without names attached, so this was a happy coincidence.
One of our youngest winners, Leon Yuan, and his younger sister were are enraptured by the pigeon nesting on the balcony of the building. Perhaps we may have an entry from one of them reminiscing about this sighting in a future YWA competition?
Our thanks to everyone who joined us at the resumed in-person ceremony this year. We invite you to check out their award-winning entries. We encourage all young writers to keep at their craft and look forward to reading a new slate of entries destined for the 22nd Aannual event next year. And if you like to draw comics, keep an eye out for our Young Cartoonists Awards season opening in the fall!