Go and Get Lost: Authors' Worlds
Wednesday, August 29, 2018
Our August newsletter asked readers this tantalizing question: You're required to move to the time and place immortalized by a famous fiction author. Which of these would you tag your bags for?
While many patrons would be happy living alongside Jane Austen in Regency England or James Baldwin in post-war Paris, many respondents wrote in enthusiastically for other times and places. If you're looking for an armchair vacation, get in your time machine for one of these book-built realities.
Homer's Greece
Just one brave soul plumped for a time prior to the modern age, but it's a winner. To go straight to the source, find translations of the Iliad here and the Odyssey here (including by upcoming lecturer Emily Wilson!). There are also quite a few books about Homer's life and times; perhaps J.C. McKeown's A Cabinet of Greek Curiosities or Robin Lane Fox's Travelling Heroes would make a good first stop. If you'd like to visit Homer's Greece, yet speak a modern language, here's one good volume on Schliemann's excavations of Troy.
Pope's Richmond
Poet Alexander Pope lived in a house with famous gardens and grotto in Twickenham, near Richmond, outside London, where he entertained Voltaire, among other notables. The villa and grounds inspired poetry and art through the eighteenth and nineteenth centuries. For a browse through Pope's own work, start here. Biographies include Peter Quennell's and Maynard Mack's—or see the villa itself in a new way as a work by J.M.W. Turner.
John Keats in Rome
So lovely in life, so tragic in death: John Keats traveled to Rome in 1820, hoping for a warmer climate to aid his tuberculosis. The climate didn't help—he died a year later—but the house and city were beautiful. Here he lies, name writ in water. The last year specifically, and its setting, are treated in detail by John Evangelist Walsh. Outside of a book, you can still visit the Keats-Shelley House at the foot of the Spanish Steps (shown above), or online in a pinch.
Another would-be traveler to the nineteenth century supplied their own enticing description: Thomas Love Peacock's castles & out of the way country houses for 19th century civilized talk and good food & drink!
---
All aboard for the 19-aughts and 19-teens, and mind your manners! That gemlike age between the deaths of Queen Victoria and Archduke Franz Ferdinand—or, to put a happier spin on it, between the openings of the American League and the Panama Canal—features in the fantasies of many contributors.
Dublin 1904
Happy Bloomsday to this contributor, who told us all we need to know without the words "James Joyce" required. If Ulysses itself doesn't give you every single detail about this time and place, you might try a Joyce biography by Gordon Bowker or Richard Ellman. Kevin Birmingham's tale of the battle for Ulysses' publication also comes highly recommended. For just a quick look in, try this Irish Times article.
Forster's Edwardian England
This destination connects us to the gentle humanist who created A Room with a View and Howards End. For a day trip to his setting, try Francis King's E.M. Forster and His World, or dig deeper with his diaries or a biography.
Henry James' Edwardian Era
James' era could encompass both the London (with Americans) of The Portrait of a Lady or The Wings of the Dove and the America of The Bostonians. Hang out in James' world with his autobiographical writings or Colm Tóibín's much-admired novel The Master.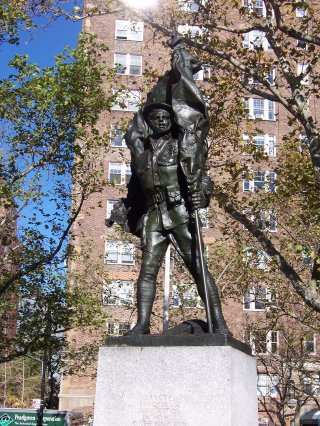 Greenwich Village; World War I Era
One write-in mentioned Greenwich Village and World War I in the same breath. The Village in the teens was a neighborhood of Bohemians, poets, Socialists, and bobbed-haired feminists. You might spend an afternoon in the circle of Mabel Dodge Luhan or revisit your favorites by Edna St. Vincent Millay. Gerald W. McFarland, Andrea Barnet, or John Strausbaugh offer historical overviews. And novelist Floyd Dell seems to have captured the moment as it flew in this 1926 novel. (At right, the Abingdon Square Doughboy war memorial in the Village)
Joseph Roth's Early-20th-Century Austria
Still in the first part of that century, catch a train to the world of Joseph Roth, most famously with The Radetzky March, or perhaps this collection of novels. Travel alongside Roth directly "in Europe between the wars," or follow Dennis Marks' search for him. Might also be fun to flip through this pictorial history of Vienna to 1914.
John Cowper Powys
Also from the first quarter of the 20th century, Powys' Wessex novels and others continue to enchant—and he, too, spans the pond, since he lived in New York City and State while writing several of his major works. Powys can also be found among the philosophers in Stack 11, as with The Complex Vision.
---
Feminists' Bloomsbury
Get a room of your own and delve into the Bloomsbury Group's London: 55 books on the general topic here. Virginia Woolf is largely found in Stacks 6 and 9, with Vanessa Bell in 7 and 12. (And did you know you can find Woolf's reviews in the digital Times Literary Supplement)? Lytton Strachey is, of course, a window to his own era and earlier ones, and this biography of his wider family talks empire and feminism in particular. If you don't know Lady Ottoline Morrell, visit her with any of these titles - or go just for tea with this small treasure.
Daphne Du Maurier's Cornwall
If last night you dreamt you went to Manderley again, stay there with Du Maurier's classics Rebecca or My Cousin Rachel, or try an earlier era in Jamaica Inn or some internal time travel with The House on the Strand. Du Maurier also documented Cornwall directly in this photo collection.
P.G. Wodehouse's...
Back-to-back entries asked for tickets please to (Library member!) P.G. Wodehouse's 1930s London and his 20th-Century Shropshire. Here are a solid 150 entries by dear Plum, from Psmith in the City (originally 1910), all the way to The Uncollected Wodehouse (originally 1976). Those settings respectively request what are probably Wodehouse's two most beloved realities (if only due to their madcap TV adaptations): the London of Bertie Wooster and the estimable Jeeves, and the hilariously hapless Earl of Emsworth's Blandings Castle. For just a sample of Jeeves, you might try this 1971 collection. One of several excellent Shropshire choices: The Crime Wave at Blandings. The geography of the Threepwoods also boasts its own book, In Search of Blandings by N.T.P. Murphy (shown above). And for more about London life in Wodehouse's era, try these Social Life and Customs titles, like Bill Brandt's London in the Thirties.
Rex Stout
Pull up a chair at Rusterman's and dine with Nero Wolfe. Stout, a friend of Wodehouse's, shows a competitive 82 titles in our catalog including dozens of mysteries starring Wolfe and Archie Goodwin. Based at West 35th Street in New York City, Wolfe's world encompasses the city and other parts of the U.S. from 1935 into the early 1970s. William S. Baring-Gould provides a 'biography' of the famous detective, while Ken Darby focuses even more on his house and The Nero Wolfe Cookbook offers his menu. Loads and loads about NYC in the 1930s and 40s at call number 974.71.
Lawrence Durrell's Alexandria
No fewer than sixty titles in the collection by this continent-hopping novelist. His Alexandria Quartet (Justine, Balthazar, Mountolive, and Clea) takes place in Egypt during and after World War II and is based in part on Durrell's post-war experiences in the British Foreign Service. Michael Haag's Alexandria: City of Memory might go well alongside, and there are additional fiction takes by Penelope Lively and David Freeman.
NYC in the 1960s
We visited Greenwich Village in the 1910s above; let's head back for the folk revival with, for instance, Suzy Rotolo's A Freewheelin' Time or David Hajdu's Positively Fourth Street. Or trot across town for the Lower East Side poetry scene or, if you're feeling even stranger, to Union Square and Andy Warhol's Factory. New York in the Sixties provides an overview, while Edmund White remembers details in City Boy. Library trustee Brendan Gill spent the '60s Here at the New Yorker...and Alice Denham also covers the literary scene.
---
Three intrepid reader-travelers would like to set forth for literary worlds that never even existed outside the covers.
Shangri-La
James Hilton's Lost Horizon was first published in 1933 but enjoyed a boom with its paperback printing as international shadows gathered in 1939. Its combination of ripping tale with elegiac philosophy and clever faux-atlas resonated through the war, and it probably deserves some credit for the positive reception of Buddhist teachers in the West in the 1950s and 1960s. If you'd also like to sit with Lo-Tsen at the feet of the High Lama, brush up your Tibetan Buddhism (Robert Thurman is a gentle guide for beginners), or survey the Western intersections with Tibet with John MacGregor.
Islandia by Austin Wright
Lawyer and law professor Austin Tappan Wright spent his days at Stanford and other distinguished institutions and his nights creating a detailed and exotic imaginary country called Islandia, realistically described as somewhere near Antartica. The resulting novel, edited and published by Wright's wife and daughter after he died in a 1931 accident, appeared in 1942 and became something of a cult classic. We hold an early copy of Wright's book Islandia and the pamphlet that originally accompanied it, plus a sequel by Mark Saxton.
Isaac Asimov's Future
The Library offers 67 titles, fiction and nonfiction, by the great sci-fi creator, science popularizer, and light-opera buff. We suspect that this reader-traveler would like to live on into the reality of Asimov's Foundation series, where a brilliant modern-day mathematician works to preserve civilization against the coming of a dark age. We have the initial trilogy in one volume, as well as Asimov's other books in the same continuity.
Wherever you're reading to, enjoy the move.