The Great Mice of Literature
Recently, the Children's Librarians noticed that there are many books featuring mice as primary characters scattered throughout our collection. We decided it was time to honor these rodents with the cute, pink tails and asked the entire NYSL staff to recommend their personal favorites. We hope you will enjoy these squeaky tales—perhaps whilst nibbling on a bit of cheese?
Redwall | Brian Jacques
Fantasy and adventure readers will love Redwall, the first book in the popular series by Brian Jacques. This book follows the animal inhabitants of Redwall, a beautiful community about to fall prey to attacks from the malicious one-eyed rat Cluny the Scourge. Brave mouse Matthias leaves on a quest to retrieve the special sword that he believes will battle this great evil. The book is filled with action, adventure and excitement for readers of all ages to enjoy. Those who love classic battles between good and evil, as well as tales of daring knights and heroic rescues, are in for a treat.
Young Fredle | Cynthia Voigt
We've all, at some time in our lives, felt like we didn't belong. Young Fredle by Cynthia Voigt tells the tale of Fredle, a mouse who has just been cast out of his home after an unfortunate incident with some chocolate. He begins his search for the place where he belongs, bringing readers along with him on a journey of self-discovery, beauty and friendship. Fans of Voigt's novel Homecoming will enjoy revisiting similar themes set for a younger audience.
—Danielle Gregori, Children's Librarian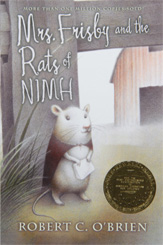 Mrs. Frisby and the Rats of NIMH | Robert C. O'Brien
Beatrix Potter meets Jason Bourne in this touching and thought-provoking Newbery medalist. The premise is nearly dystopian—Big Science creates techie superrodents—except that these National Institute of Mental Health escapees imbibe wisdom alongside power. The indomitable Mrs. Frisby needs no lab enhancement to show courage, resourcefulness, and mama-love, turning dire straits to the advantage of both her family and the rat community.
Basil of Baker Street | Eve Titus
When you run out of Arthur Conan Doyle's Sherlock Holmes, look to his baseboard for the equally deerstalkered Basil and his companion Dr. Dawson, using brilliant detection to track kidnappers through a cheery mouse-sized Victorian era.
—Sara Holliday, Events Coordinator
The Rescuers | Margery Sharp
Join The Rescuers, an unlikely trio of heroic mice, on their perilous quest on behalf of the Prisoners' Aid Society. Their mission: to free a Norwegian poet, unjustly imprisoned in the impenetrable Black Castle. Miss Bianca—a poised, clever, and elegant poet, and friend to cats; Nils—the bravest mouse in Norway; and, Bernard—pantry mouse extraordinaire, journey by plane, by boat, by wagon, by raft, and by their wits, on this mouse adventure complete with a fierce but not terribly smart cat. The well-told tale, originally published in 1959, is enhanced by delightful drawings throughout by Garth Williams. I can't decide which illustration is my favorite—Nils studying the "map" drawn by Miss Bianca or Miss Bianca riding Mamelouk the cat. This reissued classic will be enjoyed by readers ages 6-106.
—Randi Levy, Head of the Children's Library
Norman the Doorman | Don Freeman
Who hasn't fantasized about being in the Metropolitan Museum of Art on your own, or about living in a tiny mouse apartment hidden in an unlikely place, like the helmet of a suit of armor?
The delightful stories and illustrations of Don Freeman are favorites of mine, and Norman's aesthetic sensibility as he works on a cheese still life or a Calder-esque wire sculpture, or just gives private tours to his elegantly clad mouse relatives, will win the heart of any art lover.
First published in 1959, this tale is complete with a suspenseful plot and character turnaround amidst a crowd of classic, late 1950s NYC museum-goers.
—Cathy McGowan, Circulation Librarian/Interlibrary Loan Librarian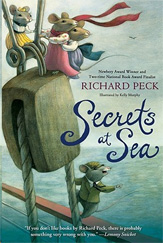 Secrets at Sea | Richard Peck
This tale follows a young orphaned mouse family in upstate New York, who set sail across the ocean, tagging along on the adventure their humans are making to Victorian England. The people are embarking to find a suitable mate for one of the daughters in their family and romance blossoms for the some of the furry friends as well. Long a fantastic yarn-weaver of stories about people, Peck's adept skills shift seamlessly to the anthropomorphized animals here. Charming black and white illustrations pepper the book with daintily dressed humans and mice. Expect gasps and chuckles as the engrossing story is shared, particularly if read aloud.
The Mouse Mansion | Karina Schaapman
Another book about mice that may just inspire your own trip across an ocean is an import by a Dutch author. Over several years, Schaapman constructed a truly astounding "mousehouse," and in this oversize picture book she offers little peeks inside at the intricate, colorful details alongside charming short stories concerning the lives of Julia, Sam, and their mouse friends and family. Readers of all ages will delight in poring over the pictures, listening to the tales, and perhaps even creating some of their own as they wonder about other rooms not mentioned in these introductory tales. The original amazing construction was donated to the central library in Amsterdam and one can go there to gaze in live wonder at all its fascinating details.
—Susan Vincent Molinaro, Children's Librarian
The Tale of Despereaux | Kate DiCamillo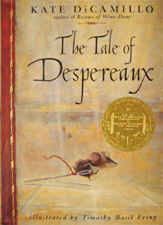 Despereaux Tilling wasn't supposed to survive his birth. His survival is but the first of many times he will defy expectations. He's small, even by mouse standards, with outsize ears. He's sickly and fails to learn the ways of being a mouse, preferring reading books to nibbling on their pages. His family abandons his mouse education, so he is left to wander about the castle. In these wanderings, he meets and falls for Princess Pea. Thus begins The Tale of Despereaux by Kate DiCamillo. Though published in 2003, The Tale of Despereaux feels timeless. It is old-fashioned storytelling at its best. Wicked villains conspire and scheme. It has shocks and thrills and feats of derring-do. The plot twists and turns its way to a hard-won fairy tale ending. Best of all, it features an unlikely hero in Despereaux, a tiny mouse who saves the day armed only with a needle and thread.
—Patrick Rayner, Acquisitions Assistant / Circulation Assistant
The Tale of Two Bad Mice | Beatrix Potter
Beatrix Potter's The Tale of Two Bad Mice has the best-named character in mouse literature. Hunca Munca and her husband Tom Thumb (the bad mice of the title) have been eying the food in the nursery dollhouse through the windows. One day when the dolls are out they sneak in, and imagine their rage when they discover that the food is just painted plaster! The mice wreak havoc, throwing the dolls' dresses out the window, ripping up the feather-bed, and breaking everything in sight. Finally, Hunca Munca comes to her senses and realizes that she could use some of the doll's possessions, so she and Tom Thumb spirit the things back to their mouse-hole.
As wonderful as this story is for very little children, it's almost more rewarding for older kids. It's full of sly humor, the illustrations are gorgeous (there are real animals under those bonnets and aprons!) and the vocabulary is colorful and challenging. In fact, one of the joys for parents in sharing Beatrix Potter with their kids is explaining the "Britishisms" they may not be familiar with.
—Diane Srebnick, Development Assistant
General Adult (& Mouse) Recommendations
Charlie is an intellectually disabled man in his thirties; Algernon is a white mouse in a New York City laboratory. They both undergo an experimental IQ-boosting operation that is seemingly successful. At the height of his newly acquired intelligence, Algernon sits at the dinner table for meals, enjoys pretzels, and sips beer. He also becomes a bellwether for Charlie, who closely follows Algernon's progress and intellectual regression. While an unlikely place to find a Great Mouse of Literature, this haunting story is nonetheless well worthy of inclusion in your to-read list.
—Mia D'Avanza, Head of Circulation
"A Little Fable" | Franz Kafka (included in The Basic Kafka and The Great Wall of China)
Kafka's tale is indeed "little"—less than 100 words. But in a few lines, he gives us a mouse that looms large—one whose condition, crisis, and destiny are our own. It doesn't end well for the mouse.
—Steven McGuirl, Head of Acquisitions