The New York City Book Awards 2001
Award for History
Five Points: The Nineteenth-Century New York City Neighborhood That Invented Tap Dance, Stole Elections, and Became the World's Most Notorious Slum by Tyler Anbinder (The Free Press)
Award for a Children's Book
Lookin' for Bird in the Big City by Robert Burleigh and Marek Los (Harcourt Children's Books)
Award for History
Unearthing Gotham: The Archaeology of New York City by Anne-Marie Cantwell and Diana diZerega Wall (Yale University Press)
The 2001-2002 Book Awards Jury
Constance Rogers Roosevelt, chair; Barbara Cohen, Jules Cohn, Joan K. Davidson, Joshua B. Freeman, Christopher Gray, Elizabeth Barlow Rogers, Jonathan Rosen, Wendy Wasserstein
The awards ceremony took place May 1, 2002.
Juror Joshua B. Freeman on Five Points:
Five Points is a deeply researched look at what was once New York's most notorious neighborhood. Anbinder deftly punctures many myths about Five Points without shying away from grim realities. He makes a world seemingly long gone come alive.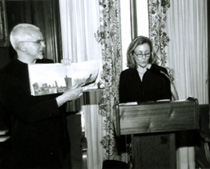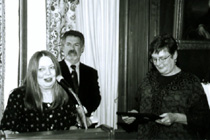 Jury chair Constance Rogers Roosevelt on Unearthing Gotham:
A unique view of the New York beneath our feet. Archaeologists Cantwell and Wall scan 11,000 years of human occupation in the five boroughs, from Native American rock shelters in Washington Heights to colonial taverns, African burial grounds and midtown skyscrapers. This absorbing survey contributes a valuable new perspective on the nature of cities and the use of space.